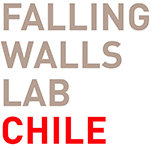 Falling Walls Lab Chile

This international forum for the next generation of starting innovators, creators, and visionaries, aims to promote exceptional ideas and connect people related to science and promising entrepreneurs from all areas around the globe. Participants can take part in a pitch competition to introduce their research, business model or initiatives to other assistants, a highly qualified jury, and the general public.
In a three-minute exposition, participants try to convince the jury about their proposal to tackle some of the biggest challenges currently faced. The winner gets a ticket to participate in the final phase in Berlin and attend the Falling Walls Conference, a chance to interact with worldwide promoters of science, business, and policymaking. Our presence
Chile
Versiones de Falling Walls Lab Chile
How to participate?

Each year, Falling Walls Lab launches an open call for applications. People who are interested and meet the profile, can apply with their ideas, projects and innovative business models through the platform provided by the central organization.
Students
Must be 18 years or older.
Application written in English.
Meet at least one of the following requirements:
a) Be enrolled in a university in Chile.
b) Had graduated from an undergraduate program less than 10 years ago.
c) Had graduated from a master's program less than 7 years ago.
d) Had graduated from a PhD less than 5 years ago.
e) Be enrolled in a post doctorate program.
more information
Complete the information request form and we will contact you.You can also contact us through the following means: