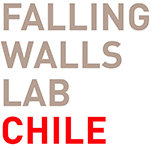 Falling Walls Lab Chile
Edition 2019

The winner of this edition, held in Santiago, was Jorge Miles, former Bayer Kimlu participant (2015), and his project called "Breaking the Wall of Tyres Pollution". Jorge also received the Audience Award in the international edition.
Versiones de Falling Walls Lab Chile
How to participate?

Each year, Falling Walls Lab launches an open call for applications. People who are interested and meet the profile, can apply with their ideas, projects and innovative business models through the platform provided by the central organization.
https://falling-walls.com/lab/
Students
Must be 18 years or older.
Application written in English.
Meet at least one of the following requirements:
a) Be enrolled in a university in Chile.
b) Had graduated from an undergraduate program less than 10 years ago.
c) Had graduated from a master's program less than 7 years ago.
d) Had graduated from a PhD less than 5 years ago.
e) Be enrolled in a post doctorate program.
more information
Complete the information request form and we will contact you. You can also contact us through the following means: